Further to supporting and maximizing our client's responsible sourcing program, we also build a program with our expertise which adapts to client's specific
requirement, enabling us being the expert extension of client's sustainability team, our audit services include:
1. Managing Client's CSR Audit Program: We manage program and draw on our skills & knowledge to effectively execute, improve and
maximize the policies and processes of the client's program:
• Pre-assessment (Due-diligence audit): an effective risk-orientated audit during scouting process to determine a potential supplier's
eligibility to work with the buyer;
• Regular social compliance audits (Annual Audit, Follow-up Audit): audits conducted according to buyer's Code of Conduct to understand
supply base and mitigate risks
2. Environmental Assessment: Assessment of environmental performance on supplier's management practices;
3. Customized Audit: Drawing upon our deep experience across multiple industries, this is a leading comprehensive compliance program that
includes any of the following elements or their combinations adaptative to client's expectations:
• Social Compliance;
• Environmental Assessment;
• Quality Assurance;
• CTPAT;
• Food Safety
Comparing with a standard CSR Audit, our value-adding audit approach delivers additional service post an audit which forms the starting point of a shared
sustainability journey with client's suppliers, to agree collective goals, define an action plan and introduce realistic, step-by-step improvements. During the whole
journey, we encourage candid, transparent discussion on issues and facilitate any positive changes towards better sustainability practices.
We share industry insights and work with all parties to integrate sustainability into buyer's buying practice so as to incentivize suppliers base on respective
performance indicators.
Examples of audit scope and process flow are listed as below:
01 - SCOPE OF A CSR AUDIT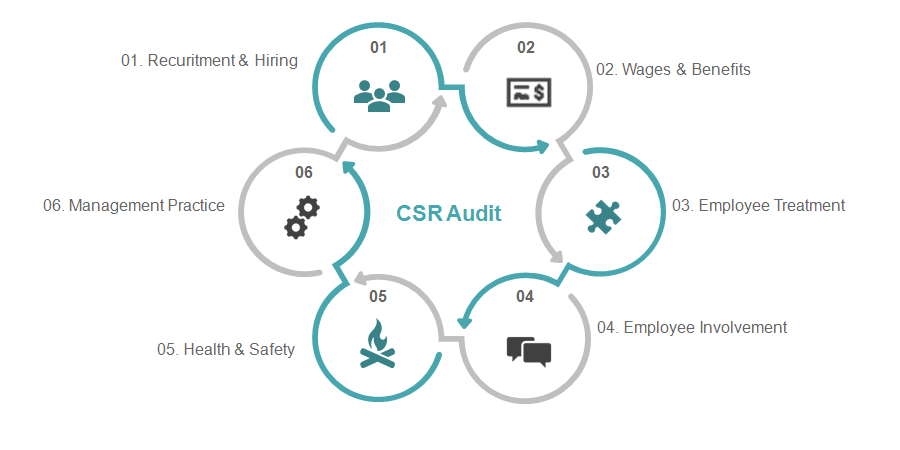 02 - SCOPE OF AN ENVIRONMENTAL AUDIT
04 - SCOPE OF A CUSTOMIZED AUDIT
05 - OUR AUDIT APPROACH AND PROCESS